Dany Perkins

---
Par/by William Lee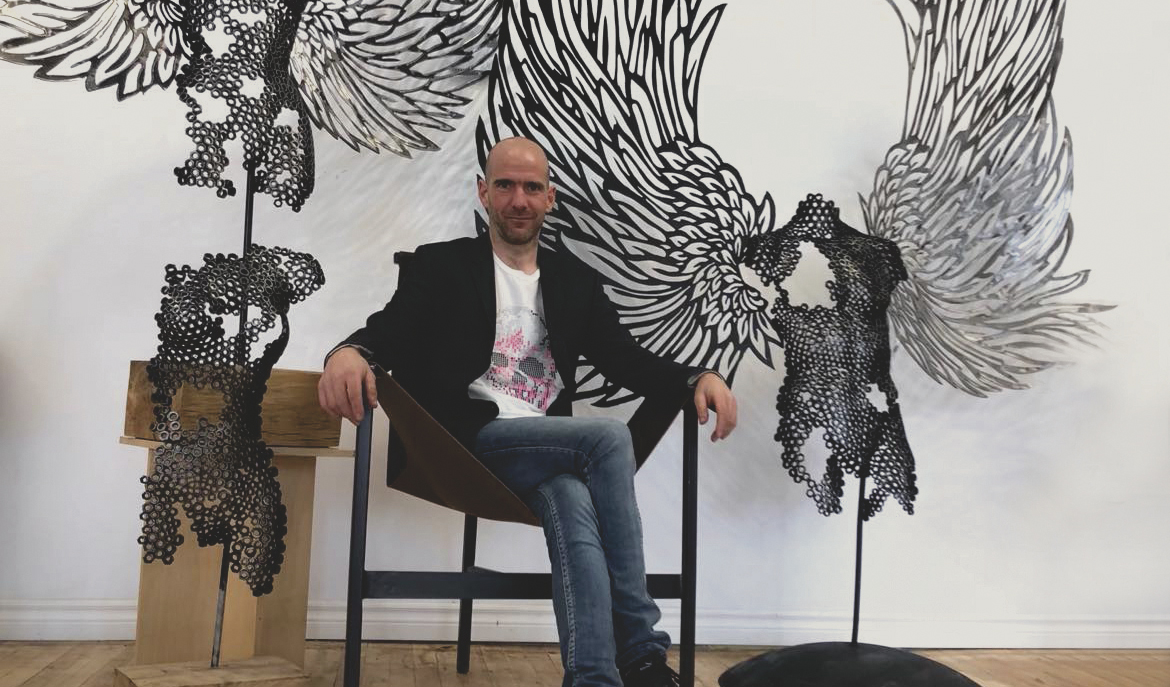 Dany Perkins est un agriculteur et un grand artiste.
Dany Perkins is a farmer and a great artist.
Pour être agriculteur de nos jours, vous devez etre déterminé, travailleur et débrouillard. De grandes qualités qui animent le sculpteur Dany Perkins.

Dans une profession qui exige des heures de travail incalculables où chaque dollar compte, l'agriculteur doit savoir éliminer les déchets, apprivoiser les méthodes de récupération et favoriser le recyclage.

C'est en pratiquant ces trois impératifs sur la ferme qui l'a vu naître à Danville dans les Cantons-de-l'Est que Dany Perkins a développé son sens aigu de l'imagination. Par l'observation et le respect de la nature qui l'entourait, il a su comprendre et apprécier celle-ci avec tout ce qu'elle a à offrir.



Attiré par les arts et surtout la sculpture, son imagination bouillonnante lui faisait voir d'innombrables créations dans les objets usuels avec lesquels il évoluait. Très tôt, il crée des objets minimalistes de grande beauté à partir des matériaux trouvés sur la ferme. Le bois, le métal ainsi que des blocs de construction bruts deviennent avec l'imaginaire de Dany Perkins, sujets de créations d'art.

Pour rencontrer sa vision artistique, Perkins manie avec dextérité un puissant appareil de découpe au plasma pouvant découper l'acier d'une épaisseur de deux pouces. Ce qui devient une sculpture en métal de bernaches du Canada volant en formation ou une samare1 en acier d'une hauteur de quatre pieds, a déjà peut-être été une pièce d'équipement agricole qui a survécu à son utilité sur la ferme. Entre les mains de l'artiste Dany Perkins, elle devient une véritable oeuvre d'art.

Au début de 2020, malgré les nombreux défis de la pandémie qui sévit, Dany Perkins a ouvert une charmante galerie d'art au centre de Danville et qui est rapidement devenue un incontournable dans le circuit des galeries d'art de la région. Perkins Galerie d'art est aujourd'hui le nouveau foyer du travail de l'artiste et celui de plus de 30 artistes locaux et régionaux.

1 - Samare : Semence de l'érable. Communément appelé par les enfants québécois « hélicoptère » ou un « tourbillon « .
To be a farmer these days you need to be determined, hardworking and resourceful. Great qualities which animate the sculptor Dany Perkins.

In a profession that demands countless hours of work where every dollar counts, the farmer must know how to dispose of waste, tame recovery methods and promote recycling.

It was by practicing these three imperatives on the farm in Danville where he was born that Dany Perkins developed his keen sense of the imagination. By observing and respecting the surrounding nature, he was able to understand and appreciate it with all it has to offer.

Attracted by the arts and especially sculpture, his bubbling imagination made him see countless creations in the everyday objects. Very early on, he created minimalist objects of great beauty from materials found on the farm. Wood, metal and rough building blocks become, with Dany Perkins' imagination, artful creations.

To attain his artistic vision, Perkins deftly wields a powerful plasma cutter capable of cutting steel up to two inches thick. What becomes a metal sculpture of flying Canadian geese in formation, or a steel samara1 four feet high, may once have been a piece of farm equipment that has outlived its use on the farm. In the hands of artist Dany Perkins, it becomes a true work of art.

In early 2020, despite the many challenges of the pandemic, Dany Perkins opened a charming art gallery in Danville that has quickly become a staple in the region's art gallery circuit. Perkins Art Gallery is now the new home for the artist's work and also of more than 30 local and regional artists.

1 - Samara: Maple seed. Commonly called by Quebec children a "helicopter" or a "tourbillon".
---